Custom 3D Lighting Systems
---

OVERVIEW
3WayLabs can create custom 3D volumetric RGB LED lighting displays for many applications. Uses such as advertising displays, holiday decorations and trees, hotel lobbies, nightclubs, and art displays.
HARDWARE
We use our own third generation Triklit lighting technology, designed and assembled in the US. Each light contains a microprocessor, two high quality Nichia RGB LEDs for extra brightness, and high update rates with 24-bit color. Lights are housed in a waterproof and UV resistant polycarbonate ball. The wire passes through the center of each ball so the lights form a uniform line. Light spacing and number of lights per string can be customized. The balls are 42mm in diameter.

A system controller can run effects standalone from a pre-programmed SD card, or the data can come from a computer in real-time over an ethernet connection. Each controller can handle up to 64 strings of lights and multiple controllers can be used in parallel and synchronized, allowing unlimited display sizes.
SOFTWARE
Our newest software allows real-time generation and control of 3D lighting effects, including setting up layers of effects, scenes, mixing, and audio analysis.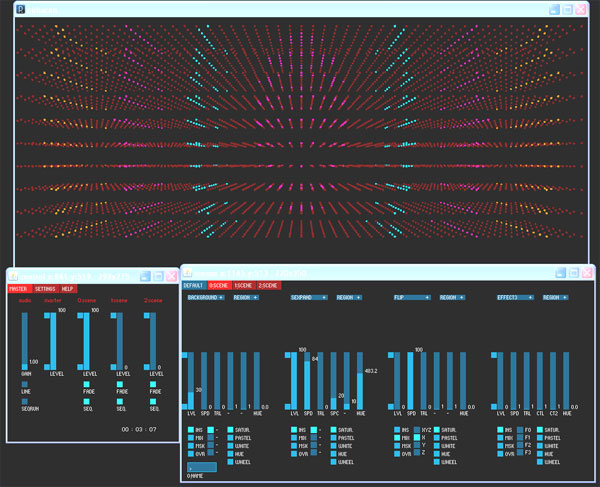 We can also program your effects using our proprietary 3D simulation software and our existing library of code. Or we can give you a C language subroutine that communicates with the lights, to allow you to write your own software.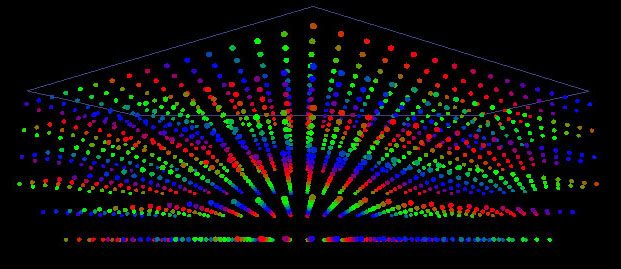 CONTACT
Mark Lottor
@gmail.com: lottor
---